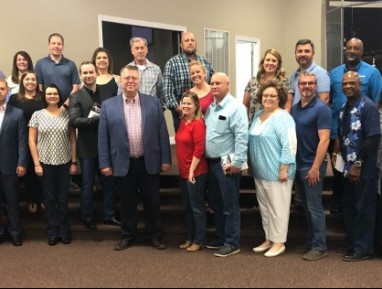 Aug 20,2019
Thrive Seminar in Eastern North Carolina
PTS Thrive offers Thrive Seminars as an opportunity to enrich early-career pastors and mid-career pastors who are engaged in significant conflict. Thrive Seminars introduce the Thrive Initiative and serves to develop a client base from among participants.
PTS Thrive partnered with the Reverend Dennis Page, Administrative Bishop of the Eastern North Carolina region of the Church of God to present a Thrive Seminar on Saturday, August 16 at the Church of God Conference Center in Kenly, North Carolina. Participation was by invitation only with invitations being issued from the Bishop's office based on Thrive's target audience. There were seventeen registered participants and several others in attendance.
Seminars were presented by Dan Tomberlin and Bill Isaacs. Tomberlin is Instructor of Pastoral Ministries at Pentecostal Theological Seminary. Isaacs is the Executive Director of the Center for Pastoral Excellence. Each registered participant was gifted with a complete six-volume set of the "Living What We Believe" series published by Church of God Adult Education.
One of the participants wrote, "This is exactly what we need more of. Young pastors need the nuts and bolts of how to pastor, how to lead, and how to deal with the technicalities and major conflicts of ministry. Many times too much emphasis is given on church growth while the foundations of ministry have never been laid. Thanks for the conference, resources, breakfast, lunch, and wisdom.