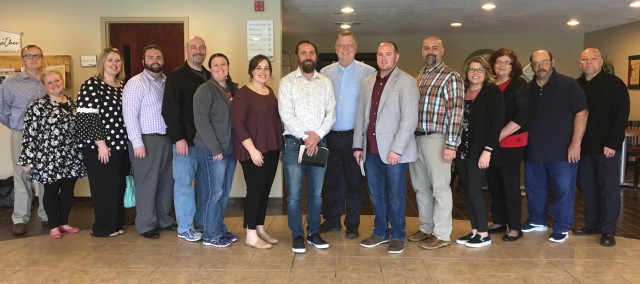 May 09,2019
Indiana Hosts the First Thrive Seminar
PTS Thrive offers Thrive Seminars as an opportunity to enrich early-career pastors, as well as mid-career pastors who are engaged in significant conflict. Thrive Seminars introduce the Thrive Initiative and serves to develop a client base from among participants.
Dr. David Gosnell, Administrative Bishop for the Church of God in Indiana, invited PTS Thrive to present a Thrive Seminar and appointed Pastor Brian Shaver to serve as Indiana Thrive Coordinator. The Indiana Thrive Seminar was conducted on Saturday, May 4 at River of Life Church in Indianapolis. Eight early career pastors and spouses (15 participants) selected by Bishop Gosnell attended the event. Seminar sessions included:
Keeping Family First presented by Dan Tomberlin and focused on the priority of a healthy pastoral family.
Financial Stewardship presented by Brian Shaver focused on the need for pastor's to be proper stewards of their income in planning for the future.
Leading the Church presented by Dan Tomberlin and focused on administrative issues. Tomberlin insisted, "Competence and integrity in church administration is just as important as competence and integrity in the preaching of the Word."
Managing APES (Conflict Resolution) presented by Dan Tomberlin which discussed anxiety provoking events (APES) as a source of conflict in the local church and offer ways pastors might lead in resolving conflict.
In a post-seminar assessment, participants gave the Thrive seminar high marks and said the seminar topics were "valuable training," "well balanced," and relevant. PTS Thrive is scheduling Thrive Seminars in every region of USA over the next year. For more information contact Dan Tomberlin.